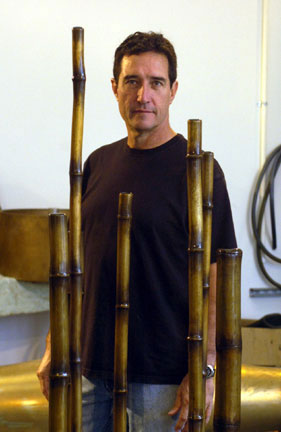 Archie Held is an internationally recognized artist who has been creating sculpture since the late 1970s. He studied at UCLA for both his graduate and undergraduate degrees. The Archie Held Studio, founded in 1985 and based in Richmond, California, has produced over 500 pieces of artwork and currently employs a team of talented artists and metal fabricators. Archie works primarily in bronze and stainless steel; water is often used as a central element to further complement the simple and elegant designs. The appeal of his tranquil creations has led to several private as well as public art commissions. He enjoys working with clients on custom site‐specific projects and welcomes collaborations with designers and architects.
Frequently Asked Questions
Q: How long does it take to create a piece?
A: Our current fabrication time is three to four months.
Q: Does Archie create custom, site–specific artwork?
A: Yes, Archie welcomes the opportunity to design and fabricate custom pieces.
Q: Will Archie come to my home or project location?
A: Absolutely. Archie enjoys visiting project locations to gather inspiration for his designs. Archie & his crew will also come to the site to install the finished piece.
Q: Do you have any sculptures fully fabricated at your studio?
A: At times we may have a few sculptures completed at our studio, as well as others in various stages of fabrication. Call for information regarding available pieces: (510) 235–8700.
Q: Can I visit the studio?
A: Yes! Please call us to arrange a studio visit: (510) 235–8700. We are located in Richmond, California.
Q: How much maintenance do your sculptures require?
A: Our sculptures are fabricated using only the finest materials, such as silicon bronze and stainless steel and they therefore require very little maintenance.
Sculpture: For general cleaning we recommend using a diluted solution of Simple Green. From time to time, sculptures may require waxing.
Water Sculpture: For general cleaning we recommend using a diluted solution of Simple Green. Smaller water sculptures should have their water changed every other month. This is easily accomplished using a wet/dry vacuum that you can buy at any major hardware store.